Get Permission
When importing single or multiple followers to your list on Cubebrush, it's essential that you get permission from every single contact before we're allowed to send them emails on your behalf.
Permission is not only common courtesy, it's required by our Terms of Use.
If you're not sure that you do have permission, then you probably don't. If you think you have persmission, it's always best to confirm. To confirm, simply leave this box checked.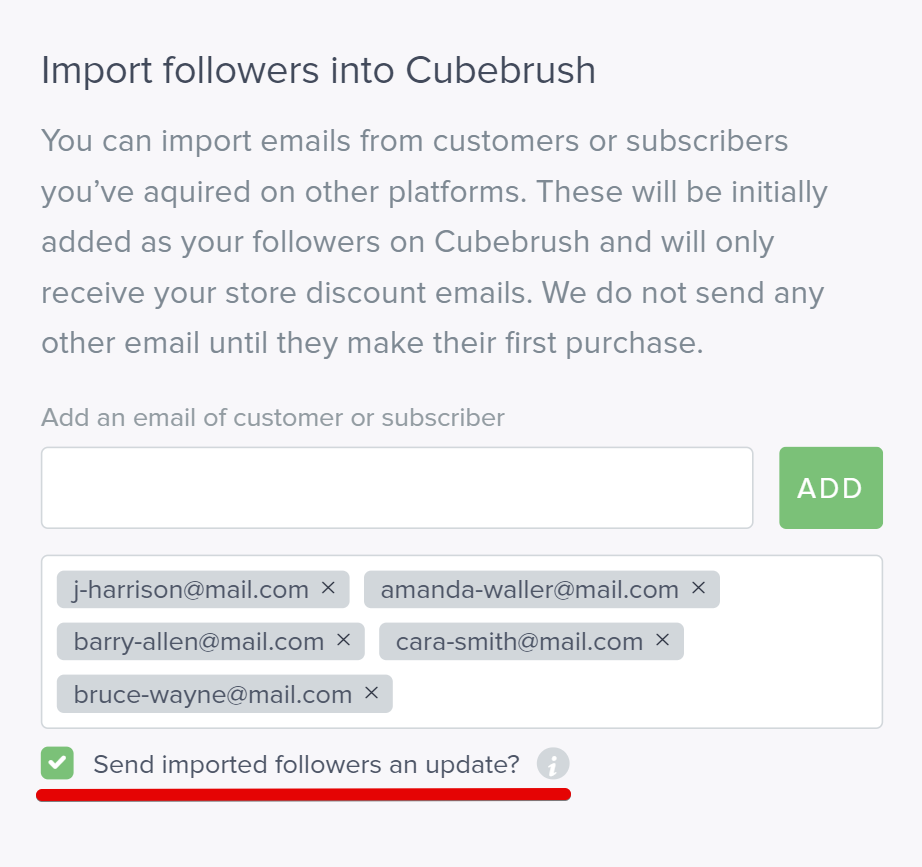 The Importance of Permission
Don't Use Third-Party Lists
Third-party lists are prohibited under our Terms. This includes purchased or rented lists, and lists scraped from third-party sources including public websites. Your list should be collected entirely by you.
We take anti-spam laws very seriously and accounts who add too many bogus contacts to their followers list will be banned. We consider emails bad when they bounce, when they issue spam reports, when they are blocked by ISPs or when they come from blacklisted email providers.
For this reason, all your followers should always be aware of who you are and why you are contacting them. If you're importing a list you've built on a newsletter platform such as Mailchimp, or from another platform such as Gumroad, we always recommend you let your contacts know ahead of time they can expect new emails from Cubebrush on behalf of yourself.
Consequences Without Permission
People who haven't given you permission are more likely to report your emails as spam, and less likely to engage with your promotions and make purchases. It's in your best interest to always secure express permission.
Spam reports can lead to aggressive spam filtering or blacklisting, which makes it impossible for some subscribers to receive any of your campaigns. This can also damage Cubebrush's reputation as a whole and negatively affect delivery for all our users.